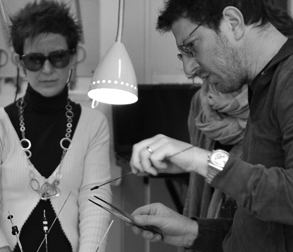 THE PHILOSOPHY OF DAVIDE PENSO
More then 20 years of Flamework business, 10 years of international teaching and the official glassblowing teacher of Boston University and Abate Zanetti murano glass school. He is always looking for new artistic expressions of glass without ever losing the view of business. This combination gives to Davide something that not many can find: work and fun.
He is never too serious, but is always concentrating on the objective at hand allowing the possibility to develop and keep a good balanced life. Davide believes in practicing good technique with a good philosophy in mind, which permits him to reach a nice equilibrium. Davide's ways of approaching the flame, the melting and the action of the bead-making are truly attributes that belong to him.
He expresses his style through the combination of his Venetian artisan experience and contemporary vision that characterizes all of his work. Many bead-makers with years of experience enjoyed Davide's works and techniques and started to switch their ways of work to Davide's solutions. But what he likes and where he can express himself with all his creativity is the jewelry designing; his creations are unquestionably characterized by Davide's style. Amazing jewelry of incredible simplicity is the brand of Davide Penso's design.